If your house needs underpinning, you're going to want to catch the issue as soon as possible. The sooner you identify the problem, the easier it will be for you to resolve it. Acting quickly is important in these situations. The longer you wait, the more difficult fixing your house will become.
That's why you need to be aware of warning signs that your house needs repairs. If you know what to look out for, you'll be able to get your house taken care of right away. Here are the top three things that you should watch out for.
1. Cracks In Your Walls
Wall cracks are one of the most common warning signs you'll see. If you need a house underpinning service, it is likely that you'll start to see cracks appearing in your walls. These cracks won't necessarily be massive. In many cases, you'll see small cracks at first. As the problem worsens, the size of the cracks will start to grow.
More often than not, these cracks will appear on your home's interior. However, it's possible for these cracks to show up on the exterior of a home as well. If you do see a crack, you're not going to want to ignore it. You should have someone come and take a look at it right away.
If you're not sure what the process of underpinning looks like, have a look at this video that shows a house well into the process:
2. Stuck Doors And Windows
Are your doors and windows starting to stick? If they are, it's possible that their frames are no longer aligned properly. This could happen because your house is in need of underpinning.
If a door or window is routinely sticking, and you didn't have an issue like this before, you're going to want to figure out what's causing the problem. Try to figure out whether or not you need underpinning. If you are not sure, you can call the professionals at Restumping Underpinning Experts Melbourne and get their opinion if your house foundations need to be restored.
If multiple doors or windows are stuck, the problem may be quite severe. You'll want to have someone come and take a look at it before the issue gets any worse.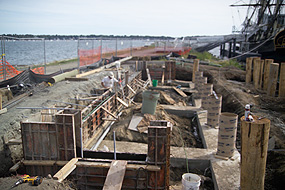 3. Is Your Property Leaning To One Side?
There are innocent explanations for cracks and stuck doors. However, if your home is starting to visibly lean to one size, there is something very wrong with your home. It's likely that underpinning Melbourne is the only thing that is going to be able to solve the problem.
Ideally, you should try to keep your house from getting to this point. Watch out for cracks and other issues so that the problem can be fixed early on. If your home is leaning towards one side, however, you're going to want to bring in a real expert.
Homeowners need to keep a watchful eye on their property. A home is an investment, and you're going to want to do as much as you can to protect that investment. If your house does need underpinning, you're going to want to call a professional that can take care of the problem. Look out for these warning signs. If you notice any of these issues, you should ask an expert to come take a look at your house.